5 reasons you'll love using Pricebook!
24 Jun 2022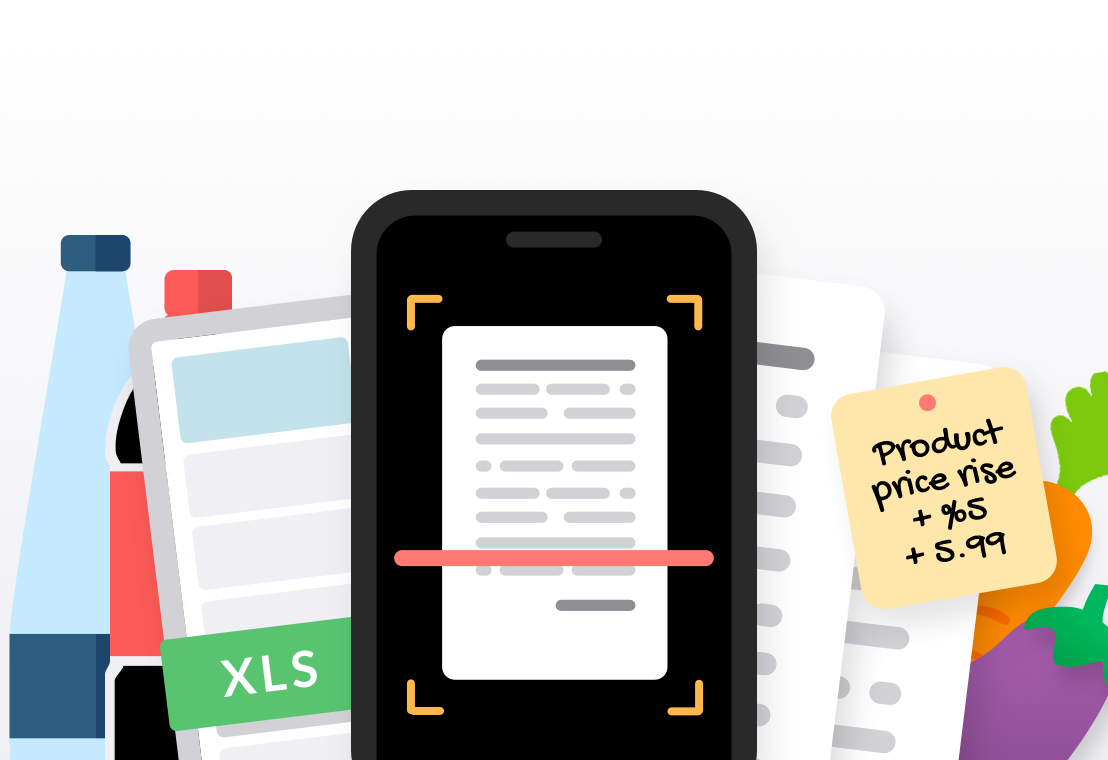 Do you find it hard to easily pinpoint when your business expenses have gone up or down, and by how much? Yeah, we thought so too. That's why we developed Pricebook.
Pricebook enables you to instantly spot price changes – what went up and down in price since your last purchase.
Pricebook is an automated technology that compares prices between your supplier invoices and instantly highlights any changes. It captures data from your supplier invoices. Pricebook was specifically created to solve the issue of price creeps. It's easy to use and gives you powerful insights into your spending.
Now sure, we are biased, but reckon the Pricebook app packs a mighty punch. And here are the top 5 things we like most about the app – and think you might too.
1. It's free
Yes, that's right – it costs you nothing to download and use Pricebook! Why? We want as many businesses as possible to use Pricebook, because we know it solves a common problem most businesses face.
The baseline is 50 free invoices a month. If you need more than that, you can switch to a paid plan. But baseline, is free.
Why this is good for you:
Play around with the app and make sure it does what you want it to do.

No financial outlay means it's risk-free.

 

No lock-in contracts, so you can leave whenever you like (though we want you to stay!).
Related blog: 'We made Pricebook free. Here's why'.
2. Quick and easy to use
To use Pricebook, simply take a photo of your invoice or email it through. Pricebook will extract all the data from your invoice including your supplier details, each item, quantity and unit cost, and the date of the invoice and more. Now at this point, all we've got is data.
So it's when you take a photo or email another invoice from the same supplier, that's when the real magic happens. In only a few seconds, Pricebook highlights any price changes since the previous invoice. The results will appear either in the app or as a reply to your email.
Why you'll love this:
Easily keep on top of your costs.

Instantly see what products went up (or down) in price. Using that information, you could

negotiate with your suppliers

for a better price, bulk buy or start to shop around for a better deal. You can read more about 'How to respond to your supplier price increases'.

All your suppliers and invoices are in your pocket (ok, phone!), ready to see at any time. No more hunting through emails, in-trays and envelopes.
Related blog: 'How to get started with Pricebook'.
3. No manual entry
As we've mentioned, when you use Pricebook you either take a photo of your invoice or email it to us. But that's the extent of what you do. Everything else is automated.
So this means there's no tedious data entry. Yes, you can say bye-bye to the frustrating (and time consuming!) exercise of matching and comparing line items on invoices to track prices.
Not only do you save on precious admin time, but you'll also know straight away if there's a price creep.
Why this is good for you:
Frees up staff to do other (more important!) tasks.

Saves you time and money.

Reduces manual data-entry errors.

Helps you spend more time in other areas of the business.
4. Track you spending
Once your invoices have been added to Pricebook, there's a tonne of data ready to be examined. So with the click of a few buttons, you can quickly find out how much you've spent. And you can filter it for the last 7 days, 14 days, 30 days and so on.
It really is so quick and easy because it picks up the invoice data you've previously shared with Pricebook.
Why this is good for you:
Easily track your spending with just a few clicks.

Find out how much you spent for a specific period across all your suppliers.

Discover your average spend per supplier.

Instantly know what you've spent, in real time.

Make timely and better informed decisions about your business expenses.
5. All your products and prices in a spreadsheet
Each week, Pricebook sends you an email with a spreadsheet attachment. It's got all your products, prices and suppliers that were captured using the app. We call this Pricebook Export. It's that cool, that it even has built-in formulas that'll help you calculate totals per product and supplier!
There's no cost to access Pricebook Export, it's a built-in app feature.
Why this is good for you:
Stocktake more efficiently and accurately.

Create order forms that can be sent to suppliers.

Stay on top of the value of inventory held by units and dollar value.

Keep other parts of the business informed such as the bookkeeper or accountant.
Related blog: 'Meet Pricebook Export'.
Now you know what makes Pricebook so good!
Pricebook was specifically created to solve the issue of price creeps. It's easy to use and gives you powerful insights into your spending. We think it's cool technology with loads of benefits for business owners.
Learn more
Want to know more about Pricebook? To find out more contact us today.