10 easy ways to reduce restaurant expenses
9 Sep 2022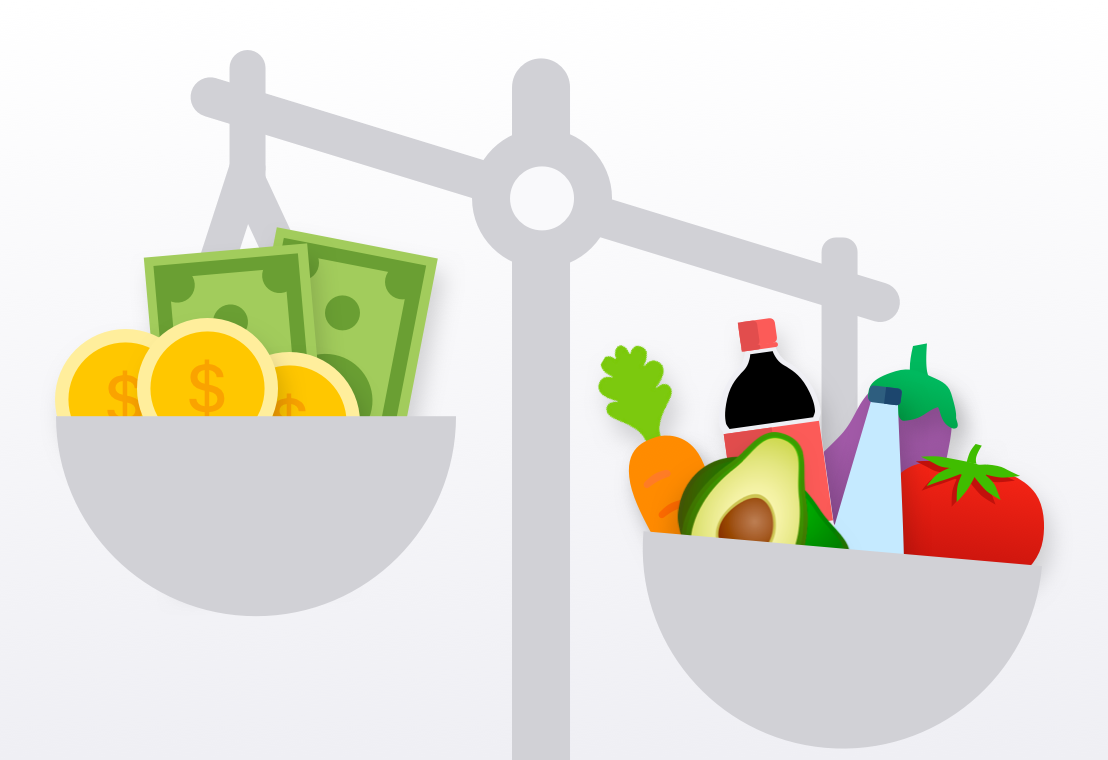 Noticed a hike in your restaurant expenses? You're not alone. Between the cost of living and supply chain issues, restaurants are not immune to rising costs. And left unchecked, expenses can spiral out of control and cost you your business.
So what can you do to avoid this grim outcome? Well, you could mitigate higher expenses by raising your prices. But this may lose you loyal customers.
Instead, you could look for ways to reduce your restaurant expenses. Not sure what that looks like in practical terms? Well keep on reading as we've got 10 cost saving ideas for your food services business.
1. Portion control
Be stringent with portion controls. It's an easy way to cut food costs in your restaurant because it ensures the exact amount of each ingredient is cooked for each dish.
Let's say a dish requires 100 grams of chicken. When your chicken delivery arrives, use scales to weigh and portion out 100 grams each. So when staff make that dish, they grab one of the portions and know that's the exact amount of chicken they have to work with. There is no excess stock.
Another option is for staff to weigh the chicken during food prep.
If staff did use more than 100 grams of chicken, that menu item would cost you more and impact your profit margin.
2. Optimise supplier prices
While you may have a great relationship with your food supplier, you should also put them under the microscope every so often.
Research other suppliers – do they offer the same product for less? Or maybe they have package deals? If you find you're no longer getting the best possible deal, talk to your current supplier about coming to a new arrangement. If they won't come to the party, consider changing suppliers.
Another option is to have a pool of suppliers so when you need to order, you can shop around for the best price. This helps you get the best market price and helps reduce your restaurant expenses.
Related blogs:
3. Buy quality pre-owned equipment
If you need equipment – whether for the kitchen or the dining area – consider buying quality pre-owned  items. It'll be significantly cheaper than buying brand new and is an excellent way your restaurant can save money.
You can pick up second hand equipment from auction houses, restaurants that have closed down and restaurant supply stores. Tap into social media and find location based industry groups or look on marketplace. There are bargains to be found!
Ideally try to buy electrical equipment that still has warranty or is only a few years old. Make sure you get all the relevant safety checks and certificates before you buy. You don't want to buy a dud.
4. Have a budget and stick to it
A surefire way to reduce your restaurant expenses is to set an annual budget and track your performance. You can't afford to run your business without knowing your numbers.
To set a budget, factor in all your expected income and expenses. Consider things like seasonality, economic situation and general customer sentiment.
One you've set your budget, you need to monitor it at least once a month. Simply compare your actual sales and expenses to your budgeted amounts. A budget gives you all the information about where you're making and spending money. And any huge costs will immediately jump out at you.
Budgets help you make informed decisions about your business, including what expense items need to be reduced.
Related blog: How to set your restaurant budget. Stress free.
5. Invest in your staff
Staff should have a designated role and responsibility within the restaurant. But once they've mastered their role, train them in a different area. It's a clever tactic because if the restaurant is quiet or slow, staff can work where they're needed most.
And this may reduce your labour costs because you don't need to hire additional staff. One person can perform different roles, when required. You have a versatile team.
Cross training staff is a great way to retain loyal, competent staff who want to up-skill or simply try something new. They can have that opportunity within your restaurant, which they are already familiar with.
6. Reduce your food waste
Rather than throw out edible food, consider how you can use it in a dish. Leftover vegetables and chicken bones or carcass make a delicious stock. Turn mushy fruit into a compote or pie. Use wilted herbs for a pesto. Day-old bread can be turned into croutons. Challenge yourself to use every part of each ingredient.
Also take note of what comes back into your kitchen. If the side salad only gets half-eaten, reduce the portion. If the breadbasket isn't touched, consider slicing bread fresh for each customer instead. If desserts are barely nibbled at, switch to smaller servings.
And by doing this, your bin costs are reduced. Less food waste means less times your bins need to be collected. So that's less landfill too and better for the environment.
7. Track and manage your inventory
Keeping an eye on your inventory is essential for reducing your restaurant expenses. At the bare minimum you need to check that the food delivered is exactly what you ordered. You don't want to pay for stock that's not delivered, right?
But before you order, think about this week's menu. Check your fridge and storeroom – what ingredients do you already have? Only order what's essential, don't over-order.
Do a thorough stocktake at least once a month. What's coming up to its best before or use by date? Rotate your stock so these items are at the front of the queue. This'll prevent you from throwing out food that's no longer fit for consumption.
8. Lower your utility bills
Gas, water and electricity bills can be massive
Some quick and easy ways to reduce these bills:
Turn off the lights in the cool room on your way out

Only using heat lamps when dishes are on the parcel shelf

Switch to energy-saving light bulbs

Unplug appliances when not in use

Install motion sensor lights for guest bathrooms

Run a full dishwasher.
Make sure you share these cost-saving strategies with your staff. And ask for their ideas to reduce gas, water and electricity too.
You can also shop around for another utility company – you're not tied to the one you're with. Use a comparison website to find a cheaper utility provider. They'll be falling over themselves to offer you a great deal.
Installing solar panels, switching to electricity and investing in low-flow toilets are other ways to reduce your utility bills.
9. Remove unpopular dishes
Compare your sales for the last few weeks to your menu. Spot any items that are rarely ordered and cull them. Yep, you've got to be ruthless.
These 'dud' menu items take you time to prepare, cost you ingredients and ultimately become dead money. So chop them from your menu. Redistribute the ingredients purchased for these dishes to more popular dishes, or find creative ways to use the ingredients. Don't throw them out.
10. Automate manual processes
Are there tedious, time consuming manual processes within your restaurant which could be automated?
For example, could you handle reservations via an online booking function which sends reminders the day of the booking? Could customers order via a QR code, rather than by a waiter? Could you upgrade your software program so it handles everything – sales, receipts, staff wages and other operating costs?
Investing in tech will help reduce your restaurant expenses in the long run, as staff are freed up from these manual tasks. It also helps to reduce human error and often provides sophisticated reporting.
Pricebook can also free you from manual processes and save you precious admin time. So rather than sifting through your supplier invoices and manually checking each line item to compare the price from the last order, Pricebook can do this for you within seconds.
It works by comparing prices between your supplier invoices using automated technology. Simply take a photo of your invoice or email it through and in a matter of seconds Pricebook will highlight any price changes since the previous invoice. With this information, you'll be in a better position to manage your expenses.
Related blog: 5 reasons you'll love using Pricebook!
Easy ways to reduce your restaurant costs
So there you have it. Our top ten easy ways you can save on your restaurant expenses. Some are quick to implement and you'll notice savings straight away. Things like turning off the lights after use, portioning ingredients and automating processes with tools like Pricebook. Others such as switching utility providers and cross training staff may take longer for you to reap the benefits.
Learn more
Want to know more about Pricebook? To find out more contact us today.
Food Service

Money

Pricebook Tech