Supplier relationship management. We'll show you how.
1 Apr 2022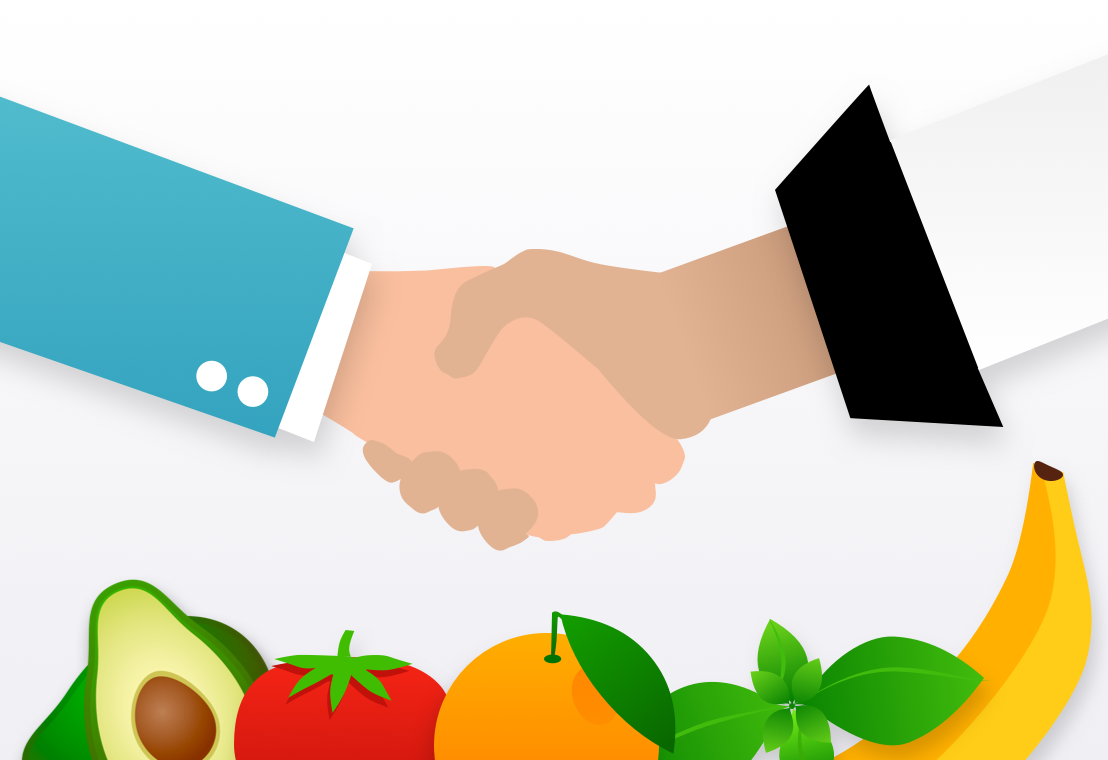 As a restaurant owner, you're reliant on countless things to make your business a success. Arguably, none more so than your food suppliers. Because let's face it, if you don't receive the raw ingredients you can't serve your customers.
That's why you can't leave your food supplier relationships to chance. Food supplier relationships can't survive on good faith alone. You need to invest time and manage them properly – your restaurant will have a far better chance to flourish than flounder.
If you're not sure how to best approach supplier relationship management – gosh, that sounds so formal! –  you can take a breather. We've done the research for you and put together our 7 top tips to help you manage your supplier relationships like a pro.
1. Build a relationship
The key to managing your food suppliers starts with building good ol' fashioned relationships. And for a relationship to thrive, it needs to go beyond transactional. So, invite them to your business or pick up the phone and have a chat. Put a face (or voice) to the name. Ask them about their business and what they do. Get to know them well.
But it can't be one way. So tell your suppliers what you hope to achieve with your restaurant, your plans and goals. Be open and honest.
Then, continue to build your relationship. Our advice is to meet your food supplier at least a couple of times a year. If your supplier has new products or special offers, they'll want to meet with you frequently.  You can also initiate a meeting, especially if you need to  iron out any kinks or issues.
2. Set your expectations
From the get-go, you need to state your expectations. Be clear and upfront about what you need from your food supplier relationship. Think about it, you need them to deliver goods so you can serve your customers your finely-tuned menu day after day without a hitch.
So tell your food suppliers:
When to deliver the goods – time of the day, day of the week

Where to deliver the goods – back door, inside the kitchen

 

The quality of goods you expect – fresh, frozen, local, imported

How you will you be submitting the orders – via phone, email, ordering app
Don't skimp on this step. Your food supplier must be able to meet your expectations, otherwise your menu – and business – will be in strife. Imagine if a customer ordered steak and veg and was only served veg because your supplier didn't deliver the meat on the day you needed it.
3. Nut out the details
Your food supplier will have a certain way of doing business. Nut out all the details so you're not caught out without stock or miss the order cut off time.
So find out:
How to order – online system, email, phone call

What are the cut off times for placing orders – night before, by 5pm Sunday

When do they deliver and what time – Monday morning, 08:30am

Will they deliver with minimal notice – out of stock and need it today

What are their payment terms – on delivery, month end

How do they manage dispute – goods not delivered, poor quality
Take time to understand how your food supplier operates. You'll feel more at ease knowing what's expected. And this goes a long way towards building a positive supplier relationship.
4. Sign on the dotted line
To avoid misunderstandings and grief with your food suppliers, insist upon a contract or agreement. Managing a supplier relationship properly means you can't rely on gentlemen's agreements, friendly handshakes or 'mates' rates.
Safeguard yourself and each product item – document the following :
Name and description 

Price

Quantity

Quality

Size

Weight

How it will be packed

How long the price will be honoured

Payment terms
A contract or agreement is your shared understanding of what you expect from the relationship. And if things go pear-shaped in the future, you'll have something to fall back on. So write it down on paper, then whip out your favourite pen and sign it alongside your supplier. Store all your contracts in the one place which leads up to point number 5.
5. Store your supplier information
Keep information about your food suppliers in the one place, it's a practical way to manage them. And no, storing details in your phone like 'Jim – fish' simply won't do. You've got to step it up.
A super easy way to manage your food suppliers is to set up a spreadsheet. Include details like:
Company name, address, phone number, email

Your contact's name, email and phone number

The items you buy from them

The prices you agreed to.

Include comments about your conversations such as 'supplier agreed on 1st June to hold prices for 2 months' 
Another simple option is to set up folders on your computer for each supplier. Save the contract (remember that?), invoices and any other communication they send you. You could also take a photo of their business card and store that in the folder too. Or use a (physical) business card organiser. 
A more sophisticated option is to use a vendor management software system.  Without a doubt they'll give you the greatest accuracy and efficiency because with most of these programs, you can store your contracts, suppliers, products and prices. 
You want to be able to reach for your food supplier details quickly. Don't waste time around rifling through a stack of paperwork or scrolling through your phone trying to find the contact name.
6. Invest in tech
Hard truth: manual work is out, automation is in. You need to invest in tech to help with food supplier management. Not only are manual processes tedious, they also take a lot of time and are prone to human error.
Tech such as online accounting software like QuickBooks, Xero or Myob or the vendor management systems will help you stay on top of your supplier invoices. Pay on time, every time and you'll earn the reputation of being a great customer. And maybe they'll offer you discounts or special offers. Plus, using these systems saves on data entry, delayed payments, missed discounts and you save time on repetitive follow-ups.
Pricebook can also help manage your food suppliers. Pricebook is essentially an app that compares prices between your supplier invoices and instantly highlights any changes. Even with a contract or agreement, you'd be surprised how often prices change whether that's because of demand and supply, seasonality, economic changes or clerical mistakes. 
All you need to do is email or take a photo of your invoice, and in a matter of seconds Pricebook will highlight any price changes since the previous invoice. You can then talk to your supplier about price discrepancies, with the facts in your hand.
Pricebook also stores all your supplier's information in one place. Every-time you scan an invoice Pricebook will extract the supplier details on the invoice and store them in the app. So if you need to contact your supplier, simply open the Pricebook app and retrieve their contact details. Easy as!
Using Pricebook saves you precious admin time. You don't have to worry about manually sorting through invoices to work out if prices have gone up or down. You can read more about How to get started with Pricebook.
7. Keep an eye on suppliers
Your food supplier relationships are not set and forget. Sure, things may be rosy at the beginning while they try to win your business. But you need to monitor things to work out if your suppliers are holding up their end of the bargain.
 Consider:
Do they deliver on time?

Do they deliver what you ordered?

How frequently are they out of stock?

Is the quality to your expected standard?

How do they respond when things go wrong?

Do they honour the prices as set out in the contract?
It's also worthwhile scanning the market and comparing the price with a new supplier.  You can't assume your food supplier is giving you the best deal on the market for all of time. It also shows your suppliers they need to treat you well as a customer and not take you for a ride.
Managing supplier relationships – piece of cake!
Food suppliers are essential to your business – without raw ingredients, you simply don't have a menu to serve your customers! Build strong food supplier relationships with these easy 7 tips, including with a helping hand from Pricebook.  
Strengthen your supplier relationships and watch your business flourish.
Learn more
Want to know more about Pricebook? To find out more contact us today.
Food Service

Pricebook Tech