Restaurant data. How you can use it to help drive growth.
7 Oct 2022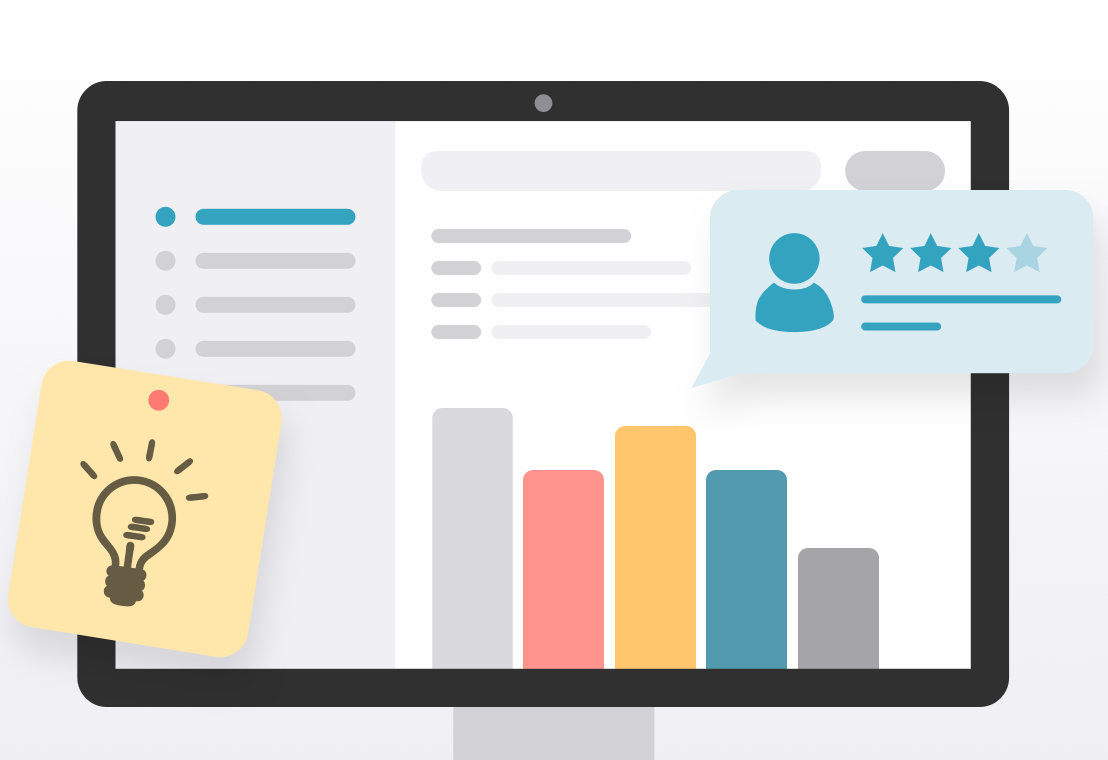 To the restaurant industry, data is what the internet was twenty years ago. It will completely revolutionise the way you make decisions for your restaurant, but it's going to take some time to figure out how to implement it.
The good news is, you're probably already collecting restaurant data. Figuring out how to use it to unlock growth is the tricker part. Luckily, you've come to the right blog post.
Let's take a look at what might be holding you back from data, break down the major kinds of data you can collect, and look at some practical examples of what you might do with your data.
Data analytics aren't as scary as they sound
Think of how the internet made changes to the restaurant industry. Let's be honest, restaurants and food services businesses struggled to see the potential in having a website and an online presence for many years after other industries unlocked it. Today, we can all agree that failing to create a robust social media presence can hold your restaurant back.
Data is the same way. Most people who open restaurants do it because they love food, understand how a kitchen runs, and have strong gut feelings about how to run their business based on experience and know-how.
But when margins get tight in this competitive industry, gut feeling and know-how is simply not going to be enough. Especially not when your competitors have all that plus good data.
By the way, if you are looking to boost your profit margins, we can help with that, too! Here are some related blogs you might find useful: 
Gathering data is the first step. Analysing and executing decisions based on the data you find is an entirely separate set of skills. Let's flex those muscles and dive into what sorts of data you can collect and how you can use it to grow your business.
Point of sale (POS) data
POS, or Point of sale, data is a great example of data you already have but might not be using effectively. Depending on your setup and the equipment you use, you're likely tracking overall sales volume as well as how many of each menu item you're selling, what kinds of discounts are being used, time of sale, geographic location, and demographic data.
This data is crucial to understanding what butters your bread and where customers are actually putting their money. Here are some pieces of information you can learn from POS data:
Most popular menu items

Least popular menu items

How menu item popularity changes seasonally

How menu item popularity changes throughout the day

Whether customers are using discounts

Where your customers are travelling from
You can drive growth with POS data by giving your customers more of what they want, when they want. 
If certain dishes are more popular at certain times of the year, you might consider creating a seasonal menu and only offer those items when you think they will sell. But this time, you won't be making a guess. You've got hard data to back up your decision. When items fall out of popularity, you can adapt quickly in response to the point of sale data you're monitoring.
Inventory data
Another data point we're confident you're tracking one way or the other is inventory data. Again, depending on the system you use, this might even be integrated with your POS system.
A restaurant needs to track how many ingredients they have, where they came from, and how much of that food inventory gets used. It might be as simple as a clipboard hung up inside a walk-in cooler, but this is powerful data you can use to your advantage.
Inventory data, food specifically, is crucial to managing food waste and an important part of profit margins.  Are you using all your ingredients before they spoil? Are you using a lot more of a certain ingredient than you anticipated? The better you manage your ingredients, the less frequently you have to place orders and the less food you end up throwing away. 
Labour costs and performance data
The next category of restaurant data to examine: your labor costs and data centered on how your team is performing. This is information you already track for payroll. You have to know who worked and when to pay them, right?
Depending on your system and set up, this might or might not be integrated with your POS. You may even have more sophisticated tools to help you make actionable choices using the data, such as staff rostering software.
The real magic of labor data happens when you compare it to your POS data and look for patterns. Are you making the money each shift to justify the payroll costs? Is the season starting to slow down, requiring you to cut down hours? Or is the season picking up and you need more staff to avoid leaving money on the table? 
You might even find that a certain team or employee is going above and beyond to drive sales. Using that data, you have the chance to find out what they're doing right and reward them for their results. Better yet, put them in a training position and let them teach everyone else what they're doing right.
Customer feedback data
Customer feedback can come from multiple sources. You might have a comment card system table-side or near your POS, or you might solely rely on third party sources such as Google or Yelp reviews.
When it comes to customer feedback, the truth is, you're getting it whether you like it or not. It can be difficult sometimes to see the diamonds in the rough; there are far more useless restaurant reviews than insightful looks into your strengths and weaknesses.
Despite this, customer feedback data is critical information from the people you're ultimately trying to convince to eat in your restaurant.
Even the poorest-written and least gracious reviews can unlock patterns of behaviour in your restaurant, whether it comes from the customers, staff, or some other factor. If something specific continues to come up again and again in your reviews, like the process of reserving a table or long wait times for certain menu items, you can use that data to make strategic changes for a better customer experience.
Plus, reviews give you a chance to celebrate the good, even if it doesn't always feel that way.
Learning to take criticism and using it to grow and drive innovation is a skill that separates restaurants that are going to stick around long term, and those that will not make it.
Food delivery app data
Food delivery apps are not going anywhere, any time soon. Restaurants are learning to adapt to them and experimenting with how to use them to increase profits and reach more customers.
But it's undeniable that access to these apps comes at a tangible cost for restaurant owners. You can use the data offered in your food delivery apps to help you make better decisions about which ones are helping your bottom line, and which ones may not offer the value you require.
Food delivery  app data can help you decide whether an app is worth using in the first place. If the app isn't driving enough sales to justify the cost, it might not make sense to continue participating. On the other hand, if an app is driving sales and increasing your revenue, the app data will inform you to promote it even further or even offer discounts. 
You can also dive deeper into food delivery app data to learn about where  your customers are geographically located, what times during the day is better for delivery, and more.
Like data, food ordering apps are here to stay and people are increasingly comfortable using them. Use the app's data to make it work for your restaurant.
Supplier invoice data
Inventory data is about what items you have on hand and how much you're using, but supplier prices are the numbers side of all that. What are you spending on your ingredients and how often are you purchasing them?
Even with only one supplier, every invoice contains a list of every item you purchased and how much you paid for it. That's important data to keep an eye on. When you multiply that by many suppliers, it can get a little overwhelming to track and manage supplier invoice data. There are a lot of tools available to help you monitor and track supplier prices, some of which can be found in the ordering systems you use.
Pricebook is a free app to help you track price fluctuations on your invoices. Simply take a picture of your invoice every time you order from a supplier, and Pricebook will let you know instantly if they've made any change to their prices. To learn more on how it works, take a look at this blog: 5 reasons you'll love using Pricebook
Supplier invoice data opens up so many different ways to make decisions that drive growth. When the prices of your ingredients are constantly fluctuating, you need to monitor that data to ensure that you keep your profit margin intact.
Obviously, the cost of your ingredients is critical to deciding your menu and menu prices. When certain items go up in price, you need to decide how you will respond, whether it's substituting ingredients, raising prices, or trying an entirely new dish. But you don't have that insight unless you're keeping an eye on your food costs data. 
It's inevitable that prices will go up at some point or another. When they do, you can negotiate with your suppliers or find ways to make yourself more resilient against future price increases. To learn more, take a look at this blog: How to respond to your supplier price increases
Market price data.  Are you getting a good deal?
So far we've been talking about the data that you're already collecting in your restaurant. All of these pieces of data come together to offer you useful insights, which in turn allows you to make smarter decisions in an ever-changing industry.
Now let's talk about data that you don't have but we know you wish you did! Especially when we explain how it can help you make smarter and more informed decisions than ever before. We think this is the future of data in food service. It's powerful, it will keep your suppliers accountable, and it will improve service levels across the entire industry.
Restaurant owners spend a lot of time tracking supplier invoice prices and worrying about whether they are getting a good deal or not. We also think about that a lot at Pricebook.
What if you could:
Find out if your supplier prices are high or low compared to others in the market?

Compare your supplier prices to the market average?

Easily access this data at your fingertips?

Look up the lowest and highest prices for the supplies you buy regularly?
How could this data help you? Well, we think it could help you:
Negotiate better deals with your existing suppliers

Improve your profit margins

Stay better informed on market price movement

Make smarter decisions on your pricing strategy
Is this something you could use? Could this tool change the way you do business? Reach out and drop us a few lines or leave a comment. We'd love to hear your thoughts on this type of data and what you think you could do with it.
Learn more
Want to know more about Pricebook? To find out more contact us today.
Food Service

Money

Pricebook Tech