Meet Pricebook Export
10 Sep 2021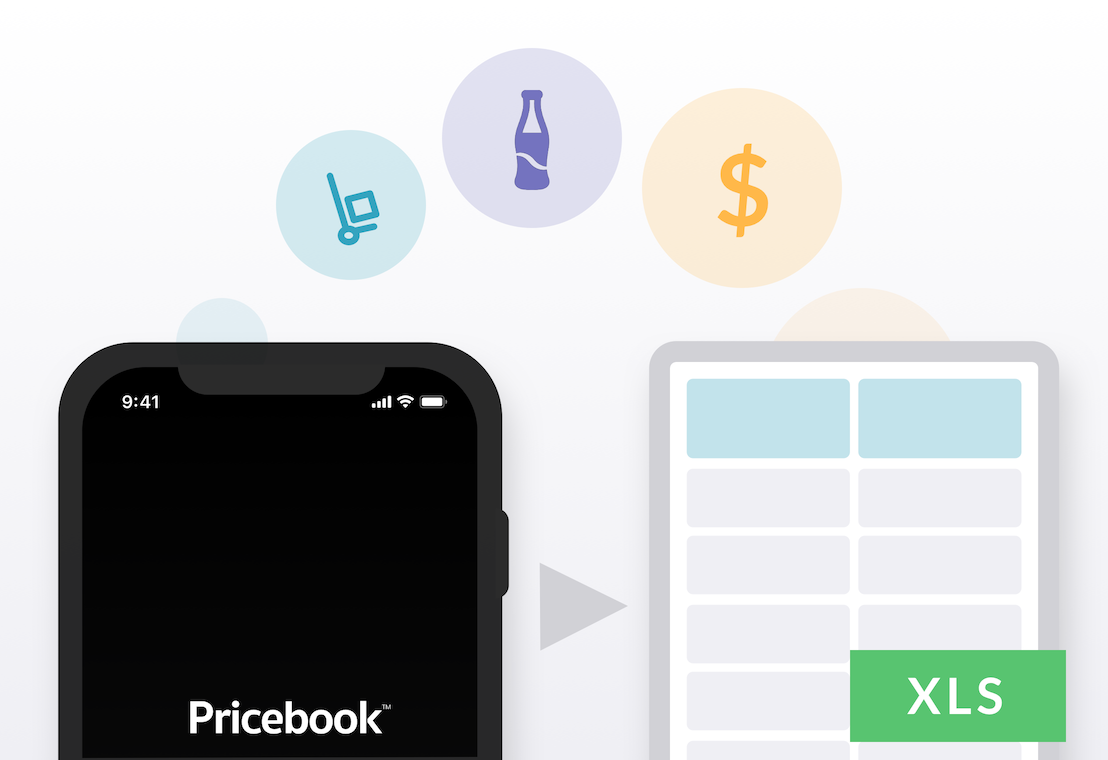 Pricebook Export is our new weekly automated email that includes a spreadsheet of all your products, prices and suppliers that were captured using the Pricebook app. It is that cool that it even has  built-in formulas that will help you calculate totals per product and supplier!
Really? A spreadsheet!
Some of our existing customers have asked us whether we could somehow export their products and prices into a spreadsheet. As it turns out, many businesses share the common pain of tracking their inventory and, therefore, spend a significant amount of time juggling spreadsheets. This often requires a certain level of know-how and patience – something not all of us are lucky enough to have. Who dreamt of growing up and becoming a spreadsheet guru, right?
Not to mention that people generally get frustrated by formatting challenges and the errors that occur when entering the data. At the same time, spreadsheets can be extremely useful and have multiple applications. As Pricebook was founded upon our core ethos – to alleviate the inefficiencies when running a business –  this sort of a challenge caught our immediate attention. How could we help?
Our think tank got buzzing and in consultation with the people in the field we came up with the answer  – Pricebook Export!
Every Friday, just before the close of business, we send each user a neat email with an attached Excel spreadsheet that contains the export of all their suppliers, products and their most recent prices. And the best part? No pesky manual data entry and maintenance (zero, zip, zilch, nada)  as it leverages the existing superpowers of Pricebook that extract and digitise invoices – whether snapped using our groovy app or sent through via email.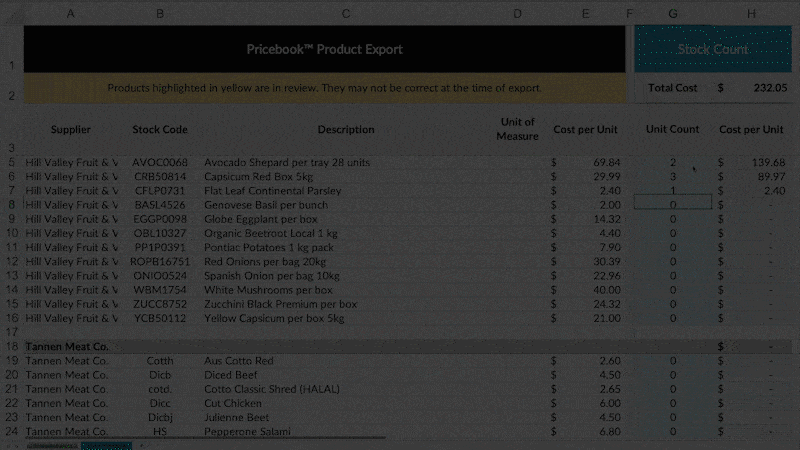 Wait… How does it work?
Coming out of extensive market research, Pricebook was created to address the trouble of identifying frequent supplier product price changes. The technology extracts and compares product prices across your invoices and flags any changes – what went up and what went down and by how much. Whenever a new invoice arrives, you can feed it into Pricebook and it will instantly evaluate each line item, classifying it as either "increased", "decreased", "unchanged" or "new".
In the process, you end up with an up-to-date digital book of prices (see what we did there?) and a library of all your products, suppliers, invoices. All without having to enter a single piece of data manually. Now is that cool or what?
Having the invoices data captured and digitised, this unlocks many other practical applications for it. Some we already baked into the Pricebook app, like – giving an overview of your spending across time periods and suppliers, marking the highest and lowest prices for products, aggregating the total dollar value of price changes etc. And starting from today – a snazzy spreadsheet export delivered straight to your inbox!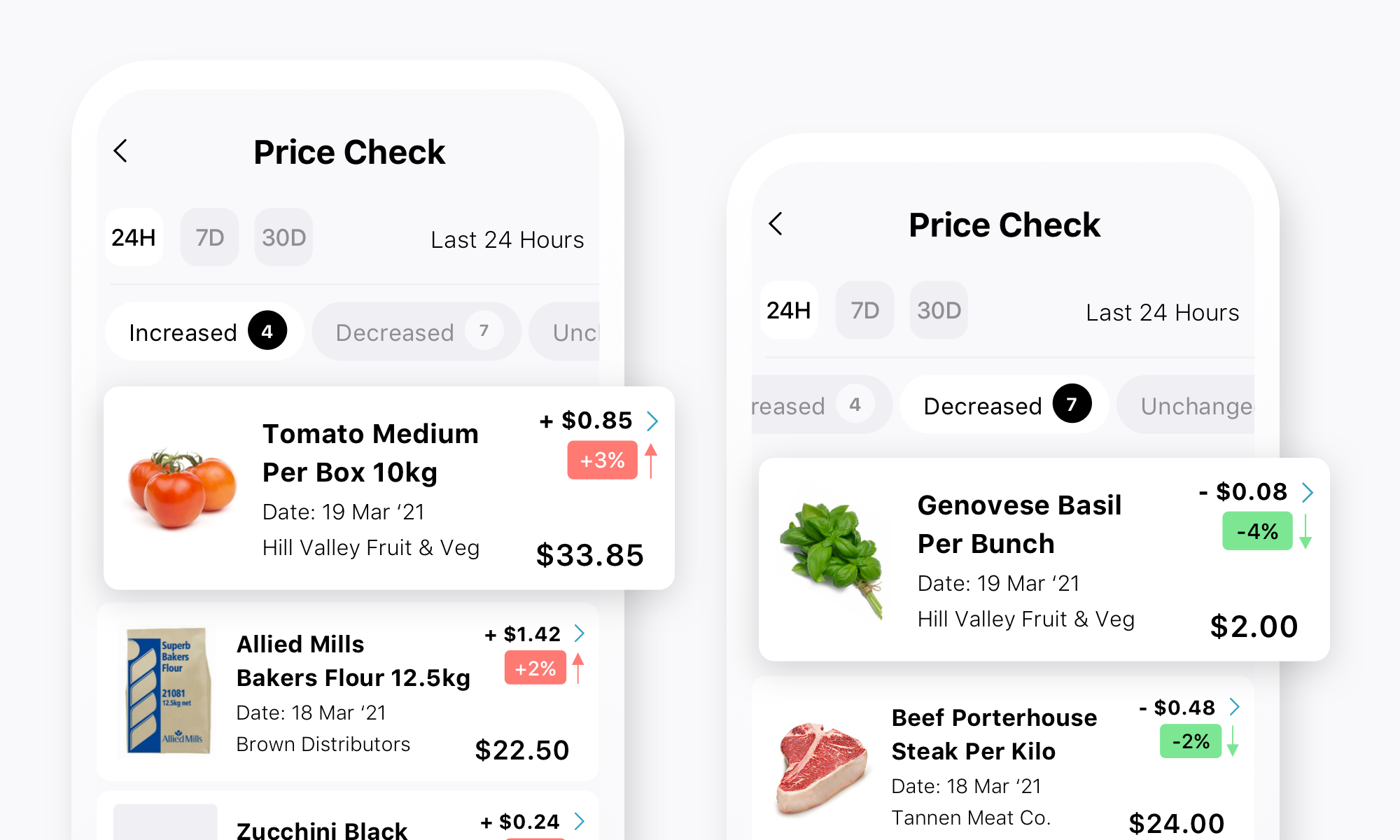 Pricebook has already cut days off the time it takes me to price my stocktake. I can now do it in half a day where my chef used to take two days doing it by hand looking up old invoices. Now Pricebook Export will make it even quicker and I'll be able to hand the process back to my chef by giving him a pre-populated spreadsheet. It's awesome.

– Barry 360Q, Victoria
What's the use?
Let's get thinking about the different ways in which Pricebook Export can work for you. Here's a few ideas to show you how your Pricebook Export spreadsheet can work across your business:
Stocktake more efficiently and accurately.

Create order forms that can be sent to suppliers.

Stay on top of the value of inventory held by units and dollar value.

Keep other parts of the business informed such as the bookkeeper or accountant.
Pricebook Export is our latest app enhancement that helps businesses increase their efficiency and profitability.
We'd love to hear any other ideas via contact us or using the Feedback and Feature Request forms in the app.  Just like what happened with Pricebook Export – if you ask for it we might just make it happen!
Pricebook Co-Founders 
Alan, Alfred and Roman