Inflation. What it means for food businesses.
13 May 2022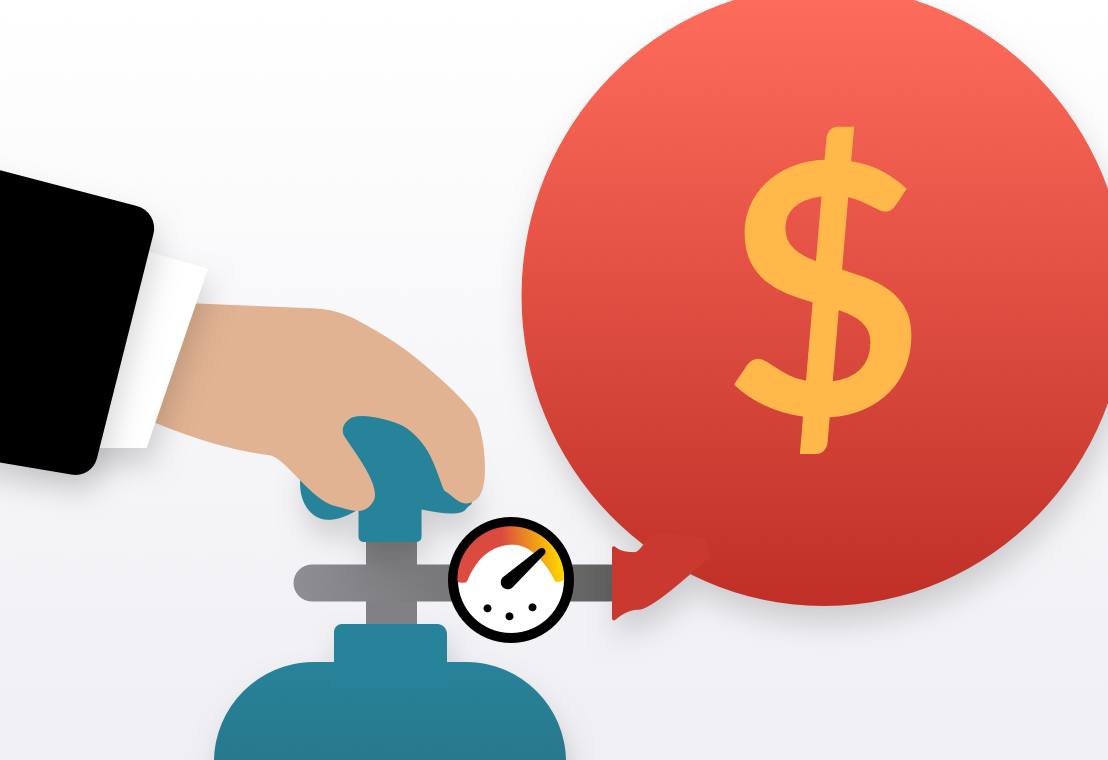 If you're running a food business, the fact is external forces are going to have an impact on your business. Things like government, political, geographical and economic forces. And when it comes to economics, inflation is something you cannot ignore.
Inflation is an increase in the level of prices of the goods and services, and it's measured as the rate of change of those prices. Inflation is driven up by housing and petrol costs, supply chain issues, labour shortages, pandemics and natural disasters.
Now maybe you're thinking 'Why should I care about inflation? My food business turns over a decent trade, I don't need to worry about this!'
But we'll explain why you need to pay attention to inflation and what you can do to mitigate the rising cost of food on your business.
Why you can't afford to ignore inflation
With inflation, it's likely the price of your raw ingredients, food supplies and overhead costs will skyrocket. And it's nothing personal about you or your business. It will be universal, across the industry and entire economy.
For food businesses , typically red meat such as beef and lamb are the first to be impacted. And your pantry items, fresh produce and fish will be close behind.
Now you might think you could simply pass on these additional costs to your customers. But be warned – customers will also be feeling the pinch of inflation. Put simply, their dollar won't stretch as far, so they'll buy less goods and services than they're used to. In fact, for some people, eating out may become a rare treat rather than a regular event.
And even if you increase prices on your menu, it's unlikely you'll dump the entire price hike onto your customers. So there's still a shortfall to make up. Plus there's the risk your new higher prices may alienate and turn away customers. At this stage, things may seem a little bleak.
To sum up – inflation for food business owners means prices of your raw ingredients, food supplies and overheads go up, but passing them onto customers is not an ideal solution. So where to from here?
Procurement. You need to speak to your suppliers and come to an arrangement that makes economic sense for you and your business. From quick wins to long term changes, we know there's a way for you to manage these food price increases. Let's get stuck in.
How to deal with increasing food prices
When inflation strikes, you need to act fast. Sitting back and watching how the economy responds may mean your business sinks. And you don't want that, right? So here's what you can do:
Short term (0 – 3 months)
During this period, you want to look for quick wins and easy to implement solutions. No big investment in tech, no significant changes to your business – just things you can do quickly without much effort. Speaking to your existing suppliers and understanding the real cost pressure they're under is the first step. 
Once you understand what their situation is, you can begin negotiations. You could ask for:
Their best price for the product

An alternative, cheaper product

A bulk order, at a discounted price

Discounts on other products

A package deal with a new product
Read our blog 'How to respond to your supplier price increases' for more short-term tips and ideas.
Medium term (3 – 12 months)
At this stage, review your business' operational processes and determine realistic changes you could make. This might include:
Change to a lean / just in time purchasing system. This would reduce your stock on hand, purchasing costs and allow you to make the most of seasonal produce.

Shop around for other suppliers for the same type of products. Spread your purchases across multiple suppliers and you won't be at the mercy of one supplier. Plus, it will keep them honest if they know they've got competition.

Invest in tech to help you run your food business more efficiently. This could be accounting software, a restaurant system or using Pricebook – an automated technology that compares prices between your supplier invoices and instantly highlights any changes. It's free to download, is easy to use and gives you powerful insights into your spending. You can read more about

'How to get started with Pricebook'
Long term (12 months +)
These fundamental, long term changes would dramatically change the way you run your business. And they could help you cope with future increasing food price rises. Diversify your income stream – corporate catering, heat-at-home packs, hands-on cooking demonstrations.
Reduce the size of your food business , and thereby reduce the overheads. This could mean changing locations or sub-letting part of your business to a complimentary merchant.

Revisit your opening times and days.

Review and evaluate all your suppliers – from raw ingredients, to uniform suppliers and cleaners. Find pockets where you can save on costs and margins. Check your contracts for exit clauses or penalties.

Bring in new investors.
Now you know how to handle the rising cost of food
As a food business owner, you can't afford to ignore inflation. The price of your raw ingredients, food supplies and overheads will go up. The good news is doing thing such as negotiating with your suppliers in the short term, making operational and long changes – including using Pricebook – could help mitigate the rising cost of food.
Learn more
Keen to know how Pricebook can help your food business? We can tell you how. Contact us today.
Food Service

Money

Pricebook Tech