How to manage your restaurant monthly expenses
11 Mar 2022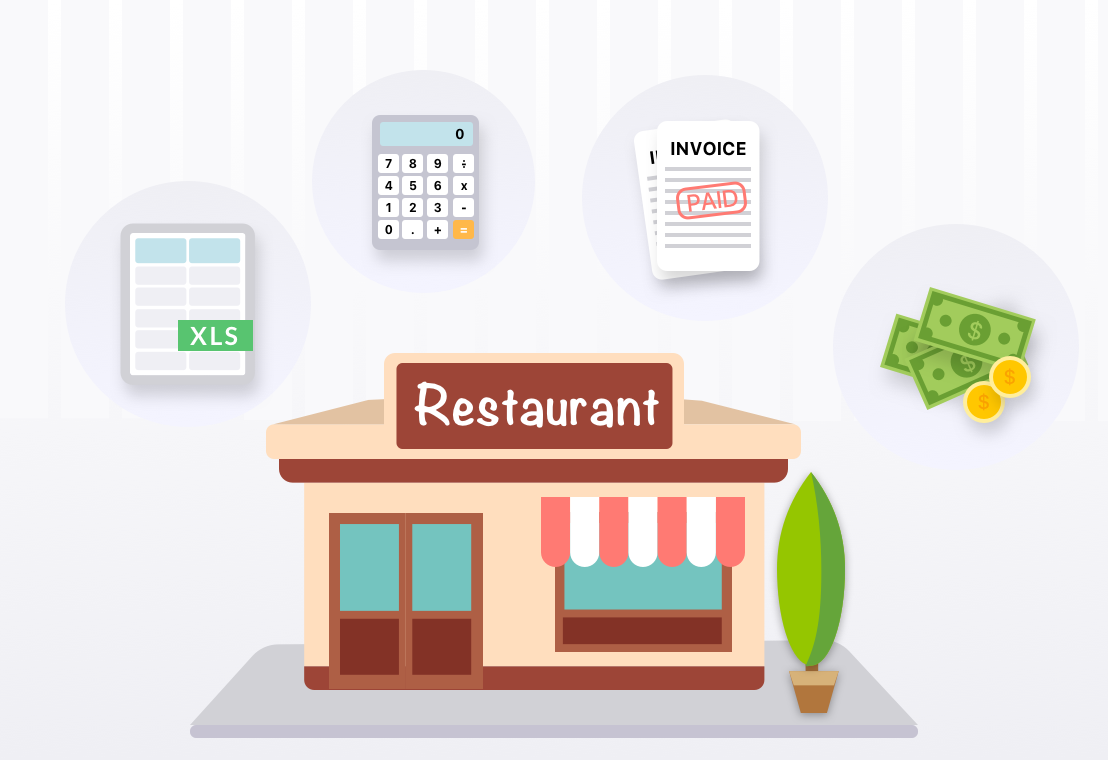 It's fair to say, opening a new restaurant is exciting! After you've locked in the finance, the creative side kicks in. Selecting a venue, deciding a name, creating the brand and of course, designing the menu. Smashed avo' anybody? 
So by the time you open your restaurant doors for first service, you're fired up and eager to serve. And let's face it, you want your restaurant to be a hit with your clientele. You want to thrive, not merely survive – or worse, close down. 
One of the keys to success is managing your finances, in particular managing your monthly restaurant expenses. The reality is, you must stay on top of your costs. You can't afford to ignore them, regardless of whether you're a new restaurant owner or been in the game a long time. So our advice is to set yourself up for success. And a large part will depend upon taking control of your variable and fixed restaurant costs today. Before you hit crisis point. 
The good news is, we're going to explain how to manage your restaurant expenses. Let's go!
1. Pick a system to track your costs
The first step to managing your restaurant costs is to decide which system you'll use to track expenses. That's right, it's time to ditch pen and paper.  If you prefer a simple, bare-basics system, Excel is a good option. Create a spreadsheet or use one of the many online templates , and your system can be up and running quickly. No need to purchase a license or learn how to use new software.
However, while Excel has endless formulas to manipulate your data, it won't automatically produce accounting reports such as profit and loss, expense breakdowns etc at the click of a button. You'll need to put in the hard yards yourself to set that up. A more sophisticated way to track your restaurant monthly expenses is via an online accounting software such as QuickBooks, Xero or Myob or an expense management software. Without a doubt they'll give you the greatest accuracy and efficiency because with most of these programs, you can store your suppliers, products and prices.
These software programs not only track your expenses, but also track your revenue streams. Best of all, they automatically produce whizz-bang reports. Which means you can analyse your numbers, rather than simply input data.
The system you select will be influenced by your budget, confidence level and whether or not you decide to DIY or outsource. Which brings us to step 2. 
2. Decide if you'll DIY or outsource to a pro
When it comes to managing your restaurant expenses , you'll need to decide if this will be your role or outsource it to a professional such as a bookkeeper or accountant.
Doing it yourself means you'll be across every aspect of your expenses. But it also means being pulled away from other areas of restaurant management and spending more time on admin. You may prefer to be in the kitchen or front of house!
Employing an accountant or bookkeeper frees up your time, they'd do the job faster than you and they know accounting systems inside and out. Plus, they're likely to be more skilled when it comes time to analyse the data. 
When deciding if you'll DIY or outsource, ask yourself:
       

Do you have relevant skills?

       

Are you prepared to up-skill / learn?  

       

Do you have time to do it yourself?

       

Is it the best use of your time?

       

Will you outsource all or part of the role?

       

Do you need an accountant or a bookkeeper?

       

Do they have hospitality-accounting experience?
A word of advice, if you decide to outsource – you still need to be across your numbers in some way. Never, ever distance yourself from your restaurant expenses. Otherwise you're flying blind and leaving the fate of your restaurant in someone else's hands.
3. Identify your main restaurant costs
Now you need to roll up your sleeves and get stuck into setting up your restaurant expense system. Even if you outsource, you still need to be involved in these early planning stages because no one knows your business better than you. And if you're being shut out from these initial stages, cut your ties immediately!
Ok, so you want to group your monthly restaurant expenses into broader categories. Each expense will be allocated to one of these categories. 
Typical restaurant costs are:
Food and drink – raw ingredients (basically what you sell)

Labor – front and back of house staff, external suppliers

Rent and utilities – electricity, gas, water, internet, phone

Marketing – website, outdoor signage, flyers, promotions, online ads

Miscellaneous – sponsorship, staff uniforms, donation (check)
Don't get too caught up in the details at this point. You can always move an expense from one category to the other. And you can add or remove categories as you become more familiar with your restaurant costs. The main takeaway is that expenses are grouped into logical categories, with each expense accounted for. No expense is left behind.
4. Create a 12-month financial forecast
We're still in the thick of the set-up stage here. All this prep work will pay off in the future – trust us! – so stick with it.
Create a detailed 12-month financial forecast for your restaurant, split by each month. If you already created one during your initial set-up phase, drag it out and use that as a basis. And if you've outsourced, your person should help you out here. The key elements of a forecast are revenue and expenses. 
Revenue:
Include all your revenue streams and break it down. This might be via dining in and takeaway. It might be via breakfast, lunch, dinner service and catering. Whatever you decide, it needs to be in detail. So if anyone comes along and says 'hey Bob, what do you think you'll make in March?' – you'll be able to answer with confidence.
Expenses:
In the previous step you grouped your expenses into broad categories. Now you need to allocate each expense to a category. Now unless you're McDonald's, your restaurant is unlikely to have predictable revenue and expense. So factor in seasonality, special events such as Valentine's Day, holidays, your clientele, etc.
For example, a water-side fine dining restaurant may peak during summer, Valentine's Day and Mother's Day. Whereas a local café may peak during school terms. Once you've plugged your sales and expense forecast into your system, you have the power to understand the 'story' your numbers are telling you. Because believe it or not, that raw data is more than simply numbers. You can calculate things like gross and average profit margins on all your categories, products and recipes.
Your forecast will ultimately tell you exactly what numbers you need to hit to ensure your business stays open – and profitable.
5. Input your expenses
By now, all the prep work is done and your forecast is locked in. High five to you champ!
Now you need to start tracking your restaurant costs, with good ol' fashioned data entry. So you'll need a rock solid process and unwavering discipline. When it comes to tracking your restaurant expenses, this is a critical step. You honestly can't afford to stash your invoices in a shoebox and deal with them on a rainy day. Truth is, your restaurant will never survive because you're running your business blind.
So you need to work out what you'll do when invoices land on your desk or inbox.
Will you process them immediately or put them aside?

If you put them aside, will you process at the end of the day, week or the first day of each month?
Where will you physically store them, before they're processed
Will you create email filters and labels for each supplier?
How will you archive invoices?
Our advice:
Make it regular

Schedule it in your diary
Focus on your data input
Take your time to avoid data errors
6. Analyse your financials
Once all your restaurant invoices have been inputted into your system, you can crack on with analysis. At a minimum, set aside an hour or two each month and 'read' your numbers. If you've outsourced, your accountant or bookkeeper should talk you through them.
Compare your actual revenue and expenses to your forecast:
Did you hit your numbers?

Why were you above / below?
We're there any major expense blow outs?
What adjustments do you need to make for next month or quarter?
Use your data to create cost profit and loss, and expense reports. Calculate your actual cost to profit margin. Compare these to your forecast. Look at what 'story' your numbers are telling you. We'll say it again – understanding this story is crucial to your business success and profitability.
7. Use Pricebook to help track expenses
By now you might be thinking 'this seems like a lot of work! Surely there's got to be a quicker and easier way!'
The good news is Pricebook can help you track your restaurant expenses – it instantly spots product price changes and saves you precious admin time. Pricebook is an automated technology that compares prices between your supplier invoices. Simply take a photo of your invoice or email it through and in a matter of seconds Pricebook will highlight any price changes since the previous invoice. The results will appear either in the app or as a reply to your email. You can read a detailed overview of 'How to get started with Pricebook'.
But that's not the only way Pricebook can help you.  
Each week, Pricebook sends you an automated email that includes a spreadsheet of all your products, prices and suppliers that were captured using the app. This is called Pricebook Export.With a little bit of elbow grease from your end, you can take data from Pricebook Export and transpose into your own spreadsheet. Want to learn more? Read 'Meet Pricebook Export'.
Alternatively, if you decide to outsource to an accountant or bookkeeper, you can forward the Pricebook Export spreadsheet to them.
Managing restaurant expenses – debunked!
So there you have it, 7 easy steps to help you manage your restaurant expenses. All it takes is planning, discipline – and a helping hand from Pricebook. Master the management of your restaurant costs and your business has a greater chance of not just surviving but thriving.
Learn more
Want to know more about Pricebook? To find out more contact us today.
Food Service

Money

Pricebook Tech