The rise and fall of Pricebook
19 Aug 2023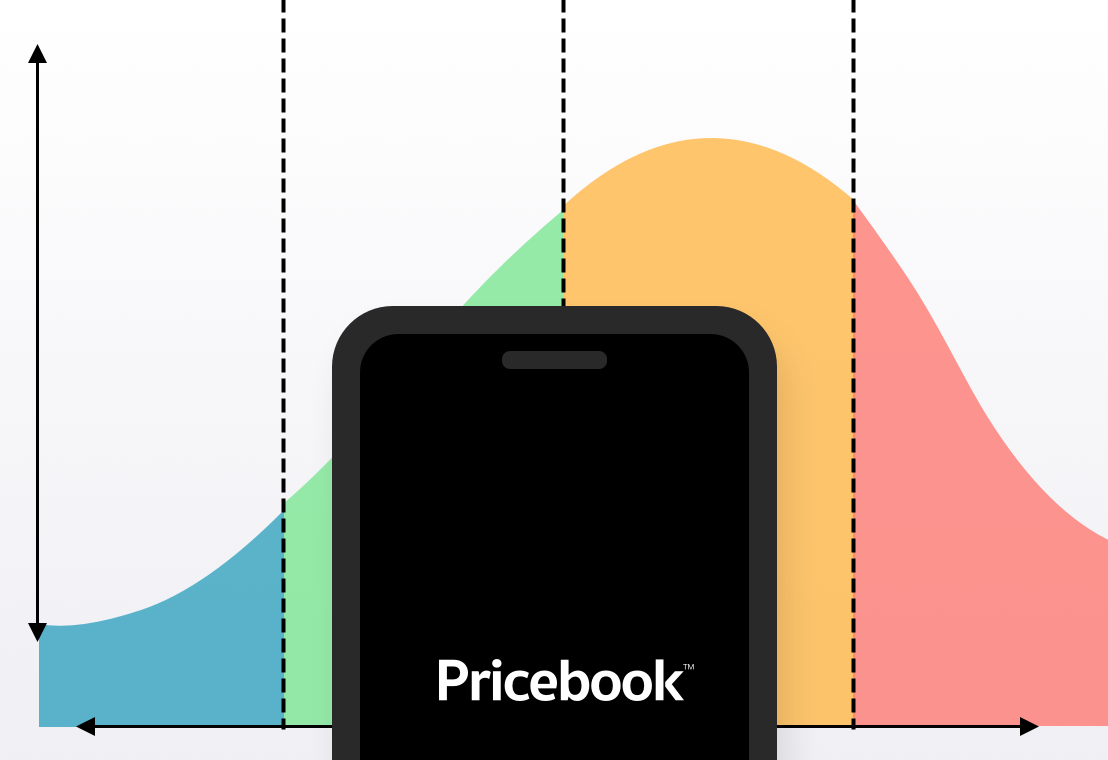 We started the Pricebook journey seven years ago as three people (Alfred Deeb, Alan Rako and Roman Barbun) who were professional colleagues at Salsa Digital and, more importantly, good friends. We all had different strengths and skills, covering UI/UX, business development, strategy, marketing, media and technology. We were ambitious, passionate, capable and hungry individuals. However, we recently made the difficult decision to wind up the business. 
Our little startup essentially failed, and this is an introspective that reflects on that experience…on the journey from the original idea to now closing our doors. Most importantly, we hope it will give other people, including entrepreneurs, some insight into what works and perhaps some pitfalls to avoid. 
How it started
The idea for the startup was born at a BBQ, when Alan was talking to Alfred about a product ordering app for the fast-moving consumer goods (FMCG) industry. Alfred had been thinking about something similar for the pizza industry, as his father supplied pizza stores. 
ReOrder v.1
The Pricebook journey began as an app called 'ReOrder'. ReOorder targeted the problem of B2B ordering. It was (and sadly still is) mostly a manual and error-prone process over the phone, which we thought we could improve by introducing an app that would allow food suppliers to receive orders from their customers digitally, thus saving time on both ends and eliminating errors. 
We were working part time and our first step was to speak to the market, including pizza shop owners and bigger food distributors. 
From there we designed a prototype and got good feedback on that before we built it. Once it was up and running, the feedback was good, but onboarding distributors was difficult. At the time, stock was in catalogues and we ran into a problem getting the items (including descriptions, prices and images) into the app's backend. We decided to pivot. 
One of the characteristics of a healthy startup is the ability to pivot — to fundamentally change the direction/focus.
ReOrder v.2
For Reorder v2, instead of getting information from the distributors and trying to get it into the backend, we focused on the pizza shop owners. The owners could take a photo of their invoice with the info (product code, description, quantity purchased) and then reorder via email.  We set up a design prototype for Reorder v2 and spoke to 20 pizza shops in VIC and NSW. 
The feedback was excellent, but the pizza shop owners were asking about the product prices. They seemed more interested in price movement than a quick way to order. 
And so, we decided to pivot again to meet this need.
Pricebook begins
Recharged with new excitement, gallons of coffee and long late nights, we started building our new product, Pricebook.
Pricebook aimed to give price control back to merchants. It promised to solve the problem of B2B merchants being hit by price increases from their suppliers without being notified. Although these are generally small increases, they can have a large impact on the bottom line because of the volume and frequency of purchases over time. 
We went through the process of design, prototype, user testing and then build again. We had about 20 customers using the Beta version for free and we were getting their feedback during weekly touch points. We kept testing and gathering feedback for about 2-3 months, then made a few changes and launched Pricebook minimal viable product (MVP) on the App Store and Google Play Store. 
With Pricebook, businesses could scan all their invoices and Pricebook would tell them exactly what prices had gone up (or down), and by how much.
In the meantime, the worldwide pandemic rolled up. At the start, it didn't affect our business much, because we were in a build phase. However, as we began to approach the marketing phase things started to look uncertain.
We got a sleek website, supporting videos, cool ads and a promising message. Yet, despite our best efforts, getting people onboard proved to be problematic.
With all that said, as the pandemic situation eased in 2022, we managed to pull-off some clever tricks in our marketing campaigns and attract some interest.
The decision to close Pricebook
At this point we realised that although people were registering, not many were actually scanning their invoices. And even those that did were dropping off after a while and the market didn't seem willing to pay for Pricebook. We realised we didn't get the product-market fit right, and had three options:
Pivot (one last time)

Close the doors

Keep a 'lights-on' approach and come back to the business in the future
It was a tough call, and we weren't all in agreement.  Some of us wanted to give it more time, while others were ready to move on.  
Eventually we decided we wouldn't pour more time and funds into Pricebook. 
What went wrong?
At the most basic level, we think Pricebook failed because we didn't get the product-market fit right. People were going to the website and downloading the app, but they weren't using it to scan their invoices to see if their prices had gone up or down. 
So, why didn't we get product market fit? Our hypothesis: It wasn't a big enough problem. People didn't want to change their behaviour or pay for a service to scan an invoice to detect price increases.  
There were other factors we think might have come into play, including:
Adoption was hindered by customers being wary of sharing their financial data with Pricebook

Bad timing with the pandemic and its effect on retail businesses 

Our value proposition wasn't strong enough to incentivise people to start using a new app

The target market wasn't ready

We didn't set and stick to specific timelines — we needed a greater sense of urgency

Dilution of time, concentrating on Pricebook on top of other businesses

Underestimation of the market size — focusing on a very small and specific audience (the pizza industry)

The underlying tech of AI and data extraction technology wasn't as advanced as we thought

Should we have admitted or accepted failure sooner?
Lessons learned along the way
We learned many valuable lessons throughout our Pricebook journey. With every failure we became hardened and better equipped to deal with our next challenge.  
Our main lessons learned include

Make sure you can devote time, and act quicker, faster, better.

Fail quick. It's one of the lean startup principles. Quickly adapt, adopt, pivot. 

Make sure your market research is broad and extensive (large samples, asking in-depth questions). We interviewed 10-20 people. They say the golden number for user experience is eight, but I guess it's different for market research. You just need to test a whole lot more.

Do your research on any contingencies, such as underlying tech, rather than making assumptions or educated guesses. 

Get the design-iterate-build-iterate cycle fast and lean — don't spend too much time trying to perfect everything.

Empower people to make decisions to keep the project moving forward.

Make sure the market is aligned with the product — in this case, we introduced a product comparing each person's prices from month-to-month into an industry that wanted to see prices of ALL suppliers…users were used to seeing catalogues and expected Pricebook to be a collation of online catalogues.   

Make sure your product creates enough value for the market — the value of users seeing their own price fluctuations from invoice-to-invoice wasn't great enough.

Consider privacy, if relevant — people were hesitant about scanning their invoices into the Pricebook system.

The cultural fit of the team is incredibly important – people with the same mindset, same goal and same attitude. We got that part right!

Avoid analysis paralysis.

Focus on outcomes.

Keep the feedback-iterate cycle short. 

Original ideas are not solely responsible for a business's success
Final thoughts
Working in a startup has shown us the importance of time — work quickly and use lean principles. It's also made us focus more on the outcome and less on the process. Don't dilute your time and energy; be disciplined and committed to milestones; be clear on defining what success looks like; test your ideas with a large market sample so the business idea is based on the opinions of many rather than a few; be brutally honest with yourself and pivot if necessary; and ensure your values align with your partners' values.
We've learned that these experiences don't come from reading a textbook or watching a YouTube video. They come from real life and the real experience and pain that we've gone through with each other. That's wisdom, and something we're very grateful for. We don't always succeed at everything in life, but we all have an incredible ability to adapt and learn. 
Despite not being able to make Pricebook a successful business, we actually had many successes along the way. We met incredibly talented and passionate people, obtained professional skills that we wouldn't be able to otherwise, made meaningful business connections, managed to get paying customers, learned how to be better personally and professionally, and we took our idea from inception to market. We gave it a fair go. 
Part of the reason why Pricebook's failure is hard is because of the relationships within it. We strongly believe we made the best decisions in terms of partners — great people and great friends, friendships that we hope will continue for the rest of our lives. We're incredibly grateful for these relationships and that these relationships haven't been compromised on this journey (at least we hope not). It was fun. We had a good time. 
It's also changed us. For the two of us with children, we find ourselves enjoying more time with our kids because we value it more. We don't feel as rushed as we did before when we were trying to balance work and Pricebook. 
We've already thought about whether we'd do it all again. We think maybe. We'd always be open to listening to ideas, but if there is a next time we'd bring a lot of learnings and maturity as entrepreneurs to the table. We'd also be more critical and ask more questions. 
Hopefully, sharing our experiences will be useful and important to others in the future — whether it's future entrepreneurs or our children. Having said that, they'd also need to make their own mistakes. We'd just encourage them to make the mistakes quicker, admit to the mistakes earlier, and move on. 
Looking forward, we remain optimistic and hopeful. We've learned valuable lessons and we're excited to apply them to our future endeavours. As we move forward, we'll focus on doing fewer things exceptionally well and valuing our family time more. Ultimately, we're grateful for the therapeutic aspects of this reflection and the opportunity to learn and grow from our experience.